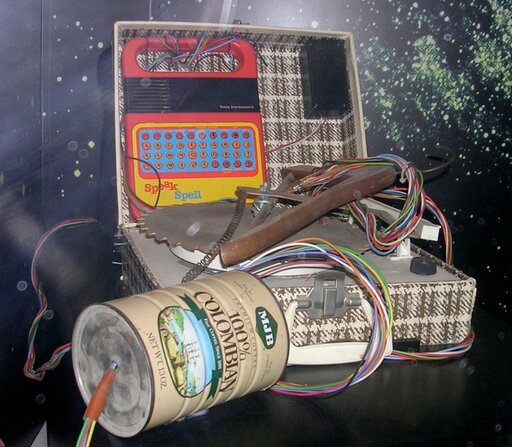 Dates: 24 May 2022 0:0 - 30 September 2022 0:0
Demos la corriente
In 1982 my niece with the initials E. T. tried to perform The Calling, also known as paraconnection or electroexorcism, by placing a telephone, a small saw, a hanger, a blender and a spell machine in a microwave. The detonation not only incinerated the tip of his nose and his left lobe, but also swept away his dreams of energy expansion forever. It is for this reason that now - present time, year 2022 - our team strives to instruct people eager to learn the basics of electroacoustic instrumentation while avoiding unnecessary trauma.
Demos la corriente is a series of workshops on the maintenance of electroacoustic equipment and how to get the best possible performance out of it. It is designed for residents and members of La Escocesa and for anyone interested in general. Here you will learn how to use the factory's sound equipment, set up effects sets, make contact microphones, make field recordings and get to grips with the basics of audio post-production.
The workshops will be taught by Natalia Dominguez, Cristian Subirá, and Johnny Lhyngam, Mercè Jara and Roberto Contador.
Plug in correctly. Light with love. Let the current in.

This activity is part of the Rebost programme. This new programmatic line is an opportunity for the whole community of La Escocesa to think and propose proposals and to carry them out within the creation factory. With a fixed budget, it is the artists themselves who decide what and how to spend the money in relation to the execution of the programme. The programme is seasonal and many of the activities will be open in the neighbourhood and will have an educational component.
SCHEDULE:
All sessions will be from 5pm to 8pm.

SESSIONS:
Session 1: Tuesday 24 May. Use of equipment. How to move amplification equipment, heavy equipment. Positioning it, switching it on, cleaning it. How to use the sound table and how to affect a contact microphone by means of effects. Taught by Roberto Contador.
Session 2: Tuesday 31st May. Microphones and cables. First group. Make your own contact microphone. Taught by Mercè Jara.
Session 3: Tuesday 7th June. Microphones and cables. First group. Make your own contact microphone. Taught by Mercè Jara.
Session 4: Tuesday 14th June. Microphones, loop recording and effects pedals. Obtaining a WAV track. Taught by Robero Contador and Mercè Jara.
Session 5: Tuesday 28th June. Audio recording and post. Taught by Cristian Subirà (dublab).
Session 6: Date to be confirmed in September. Nat D radio programme production process. Taught by Natalia Domínguez.

REGISTRATION
Maximum groups of 16 people.