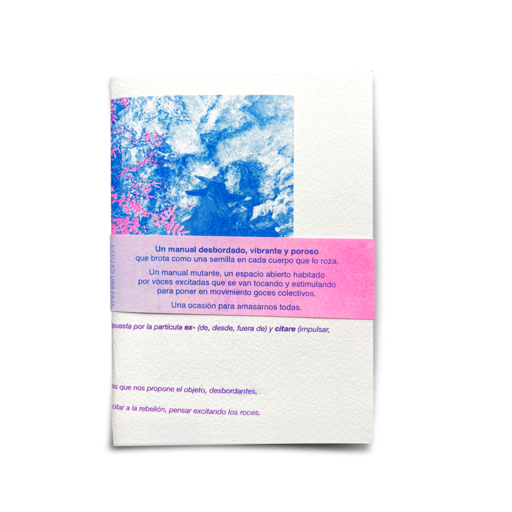 Editors: Itxaso Corral Arrieta and Angelica Tognetti
Number of pages: 36 pages and a strip
Measurements: 100 x 150mm
Price: €10
ISBN: 978-84-948853-6-5
GET ONE!
Ex-citadas: Manual de pistas para el desborde
This collective publication springs from the research project Ex-citadas: Manual de pistas para el desborde. Initially we wanted to make a Manual in which to share collective practices for excitement and overflow that we had developed during the project sessions. We collected texts and images that several of the participants sent us to prepare this Manual, and we got down to it... But we realized that the Manual was something that went against the flow of our excitements. There was no point in trying to catch and contain the overflows by formatting them. So what ended up appearing was not the Manual but everything that goes before it arrives. It's the time before we get excited and overflow together, it's some detours, some seeds, some previous salivation, it's the time before we get together, but already getting together in something.
An overflowing, vibrant and porous manual that sprouts like a seed in each body that touches it. A mutant manual, an open space inhabited by excited voices that touch and stimulate each other to set collective joys in motion. An opportunity to knead us all.

From the texts and images made by: Anabella Pareja Robinson, Anna Penalva, Beatriz Fernández, Celine Pimentel, Cristina Riera, Eva Paià, Irene Piccoli Rojo, Juan David Galindo Guarín, Marc Larré, María García Vera, Marianne Blanco, Marina Ribot Pallicer, Marina Rubio, Mercè Jara Muns, Valentina Alvarado Matos, Victoria Lowy