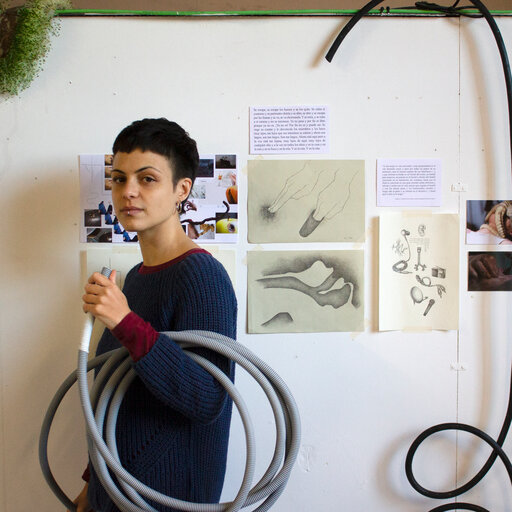 alba garcía i allué

(1997, Barcelona). Graduated in Fine Arts at the University of Barcelona (UB) with specialization in installation and performance at the Polytechnic University of Valencia (UPV). Training in theater writing with Toni Cabré at the Ateneu Barcelonès (2022).
I focus my artistic research on the relational field and its affection on material bodies. I work with corporeality as an interconnected medium, vulnerable to its dependence on the environment and the rest of the elements that it comprises, and language and story as elements that structure these differences and relationships. I am interested in the situations of change and transformation in which matter is fluid and mutable in exposure to otherness, showing in an undefined state. The inconsistency, the unstable and the indeterminate of the essence of matter. My production is materialized both in the corporeal area and its physical instability as a response to the interaction, as well as on the performative, working the plurality of being evidenced in concepts such as identity, self-narrative and the cultural perception of the real. The doubt or the interference that gives way to transformation. The incoherence or the contradiction. The discovery that reveals the body as mutable matter part of the ecosystem and its stability and authenticity as fiction.
I have been a resident at La Escocesa since 2020 and I have participated in other artistic residencies at the Kunststiftung Baden-Württemberg (Hangar exchange grant), Homesession and Ca la Dona. I have had solo and group exhibitions in different spaces in Stuttgart, Valencia and Barcelona.
albagarciallue.com
albagarciallue@gmail.com