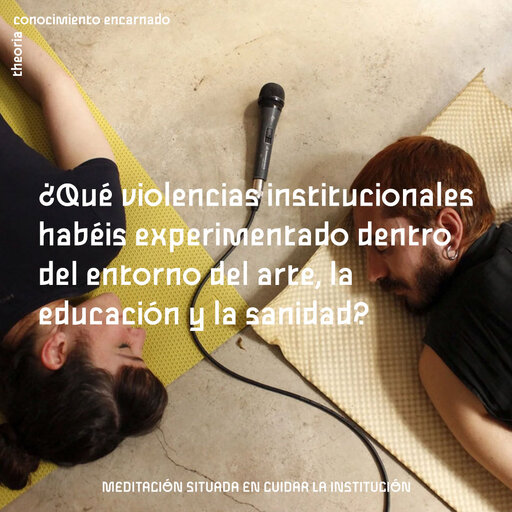 "Institutional plasticity. A clinical, aesthetical and political research" is one of the projects selected in our research grant of La Escocesa 2022.
taking care of the institution

What institutional violence have you experienced within the art, education and health care environments?
What care have these institutions given you?

These are the questions that Beatriz Regueira Pons, author of "Plástica institucional. A clinical, aesthetic and political research" and part of the collective THEORIA - Incarnated Knowledge, also formed by María González and Dasha Lavrennikov.
Beatriz Regueira Pons' project focuses on the study of various practices of "institutional psychotherapy" from the theories of Tosquelles, Guattari, Nise da Silveira and various somatechnics.
As part of their process, the THEORIA collective is elaborating a glossary of concepts and reflections to "cure the institution" and they have created a form to collect your experiences. With these ideas, THEORIA will organize a "meditation situated in taking care of the institution", a public activity to be held on January 21, 2023 at La Escocesa as a methodology to "cure" the institution.
The form is anonymous and will be open until December 31, so if you feel like telling us your experiences, click on the link you will find in the right box.