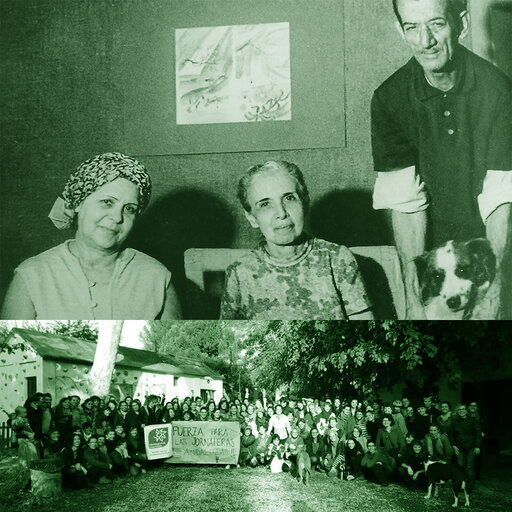 Dates:
18 November 2022 17:00 - 20:00
Public, free and online activity in Portuguese-Brazilian and Spanish.
If you have any needs or questions regarding the accessibility of this activity visit the section access La Escocesa.
activity 2
transformation through affections: the psychiatric reform of Nise da Silveira and the self-management of the community "garaldea ecofeminista".
Second meeting of the project "Institutional plasticity", by Beatriz Regueira. The first meeting, entitled "Fantástiques, simbóliques y encarnades. From "institutional psychotherapy" to an embodied institutional plasticity", focused on articulating spaces of reflection on Tosquelles' "institutional psychotherapy" and some phenomenological practices centered on the body based on Beatriz's thesis. After this, the second activity is composed of two talks. The first talk will focus on the affective and artistic practices of Dr. Nise da Silveira, Jungian and Spinozist psychiatrist, who generated a revolution in clinical methodologies from the 1940s by inspiring the Brazilian anti-manicomic reforms; and the second intervention will address the genealogy and methodologies of self-management and mutual support of the ecofeminist collective "Garaldea" (Chinchón, Madrid).
program:
17h - 18h
"From the asylum to the museum: Nise da Silveira and the aesthetics of freedom" *.
Talk by Eurípedes Gomes da Cruz Junior, musician and PhD in Museology and Heritage. Author of the thesis "From the asylum to the museum: science and art in the collections of madness". He worked with Nise da Silveira for over 30 years and is currently a curator at the National Museum of Fine Arts (Brazil).
18.15h -19.15h
"Feminist experiences in collective care spaces".
Conversation between Ana Luiza Braga and Paula Lamana.
Ana Luiza Braga is a researcher and translator. She works with agroecology, education and community organizing with social movements in Brazil. Paula Lamana has worked as a nurse in social and health institutions and lived in the community. She studies medical anthropology and works in feminist community projects for and with women.
"Institutional plasticity" is a research project by Beatriz Regueira selected in the open call artistic research grants of La Escocesa 2022.
*The first activity will be in Portuguese-Brazilian with a simultaneous translation to Spanish by Ana Luiza Braga.